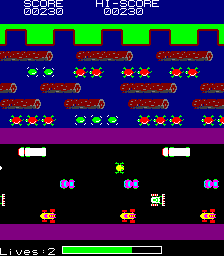 After two weeks I finally have something to show. Danger Frog… you may know it as Frogger. Once again it is a cut down version of the original.
This turned out to be a bit more complicated than the previous few games and I am not particularly proud of the code but what can you do… I have already spent two weeks working on it. I can say I have learnt a lot from it and if I were to write it again I am pretty sure I could do better.
Anyway… its a cut down version of Frogger.. yay! 🙂
Enjoy!