Very little progress has been made.
The latest version of the code is starting to produce a bit of code smell and I'm not happy with it. It will need a rewrite.
In the meantime if you go to the page you can find the lastest version of the game.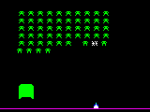 Note : I am drawing a shield on the screen but it doesnt interact with anything yet. That is next on the list of things to do.
Note2 : It has only really been tested with the chrome browser however I did notice the other day that in firefox the base shot is slightly offset. I need to look into why that is.