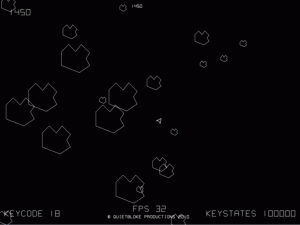 With the limited time available I have managed to make more progress with the game. This is now a playable game ( I did say playable and not fun ). This means you start a game, you play it, if your score is good enough you can enter your initials for the high score table. The rocks now break into meduim and small sizes.
Whats left to do ? Plenty. You only get 1 life currently. There are no UFO's. The collision detection is not good. You'll notice that for the ship. There may also be a bug in around the high score table logic. All the new code is still quite sloppy so it will need a refactor ( once Im happy with how it is working ). Only tested properly in Google Chrome. Time is too short to test everywhere all the time.
Anyway.. click –> here <-- to try it out and do let me know what you think.