I seem to have had a half decent response to the game so I decided to devote another 6 hours to it.
Click the QB Galaxians link in the menu to find the latest WIP version.
Current New Features are :
Graphics for enemy and player explosions.
Less prominent stars. They are nice and colourful now too.
Some sounds which can be toggled with the S key.
The sounds are for player shot, player explosion and enemy explosion.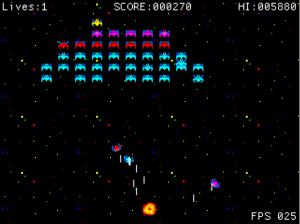 Enjoy
Additional :
Font background is now transparent
Font changed to a thick CGA font.